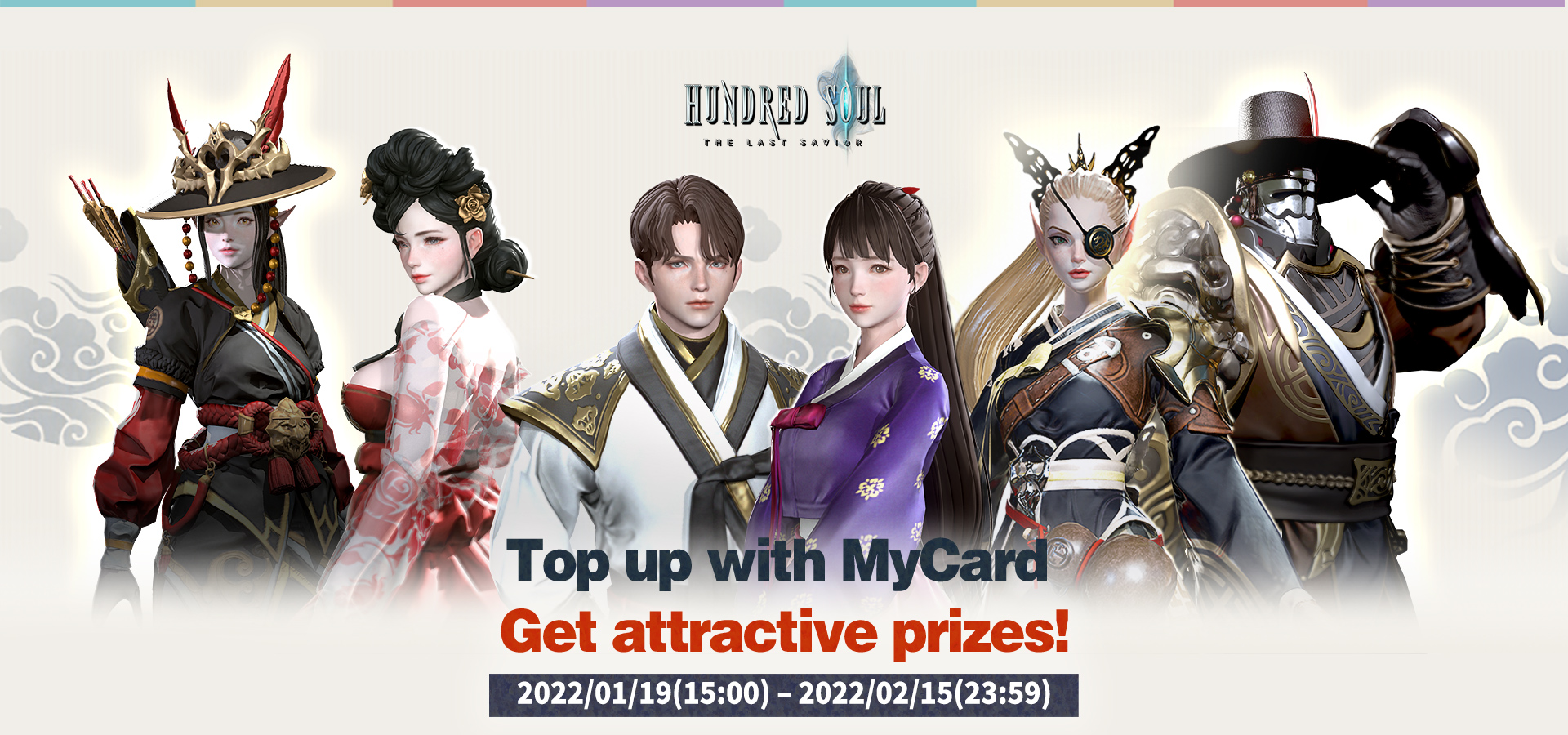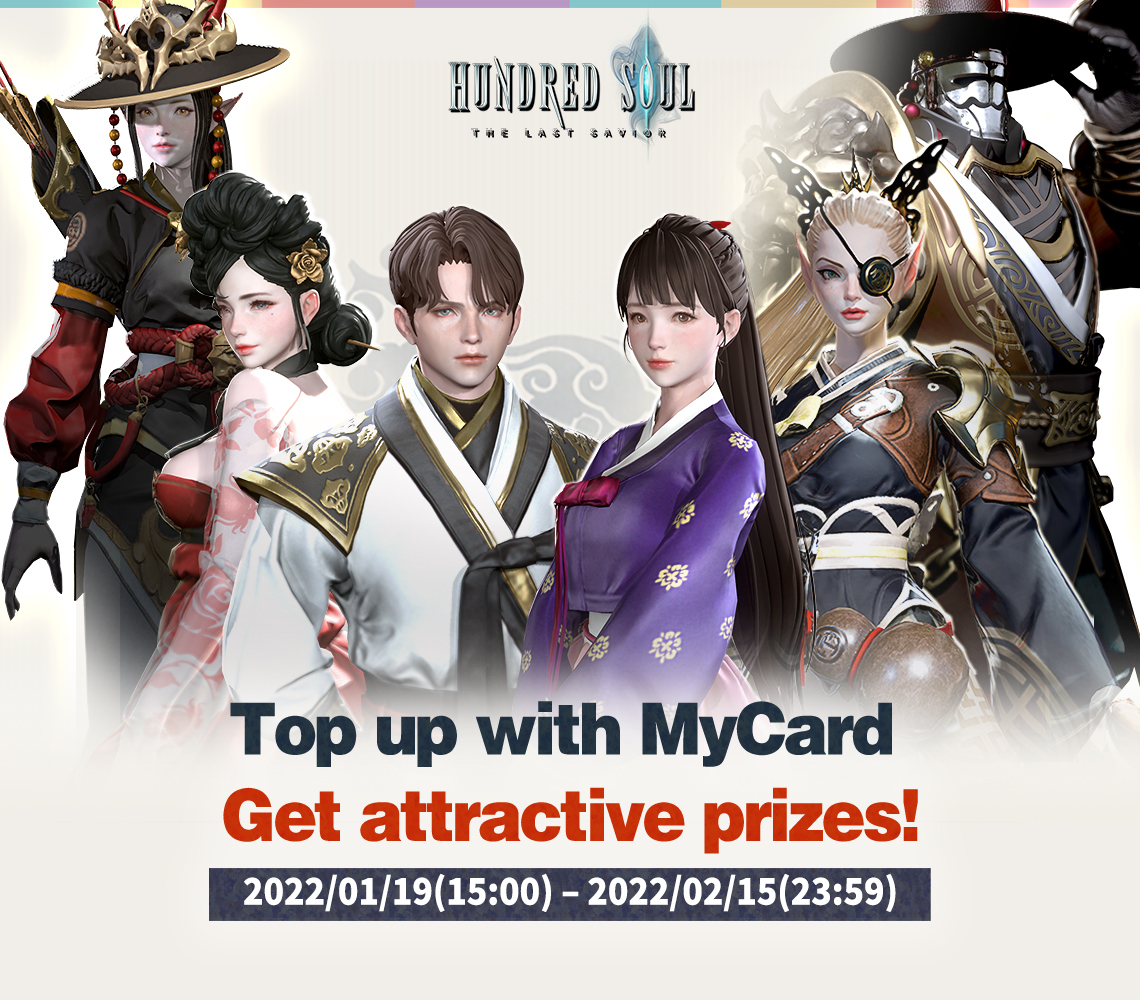 About Event
During the event period, use online payment methods to purchase the specified denomination of MyCard Points, and successfully top up into the Hundred Soul game account. Then, you will get game prizes depending on the denomination you top up, as follows. (The Prizes are limited.) ※Attention! This event can only be followed by online top up through the game's Top up website
| The Denomination of MyCard Points | Limited Prizes |
| --- | --- |
| MyCard 730points | Gold*1,000,000, Elite Pet Hatch Ticket*30, Sealed Enchant Stone Box*3 (Limited to 100 sets) |
| MyCard 3290 points | Emerald*3,000, Sealed Special Companion Soul*50, Badge of Honor*50 (Limited to 100 sets) |
How to get MyCard event prizes
Click the Entrance Button above according to your top-up domination, then login to your MyCard member account.
If you top up via an online payment method, you can Search online purchase transactions for your transaction code, then enter the user number and transaction code to participate in the event.
Attention! The "Prizes code" awarded from this event will be displayed directly on the event's website page.
If you are not a verified MyCard member yet, please register for a MyCard verified member account and complete the verification of your mobile number, to qualify for the event.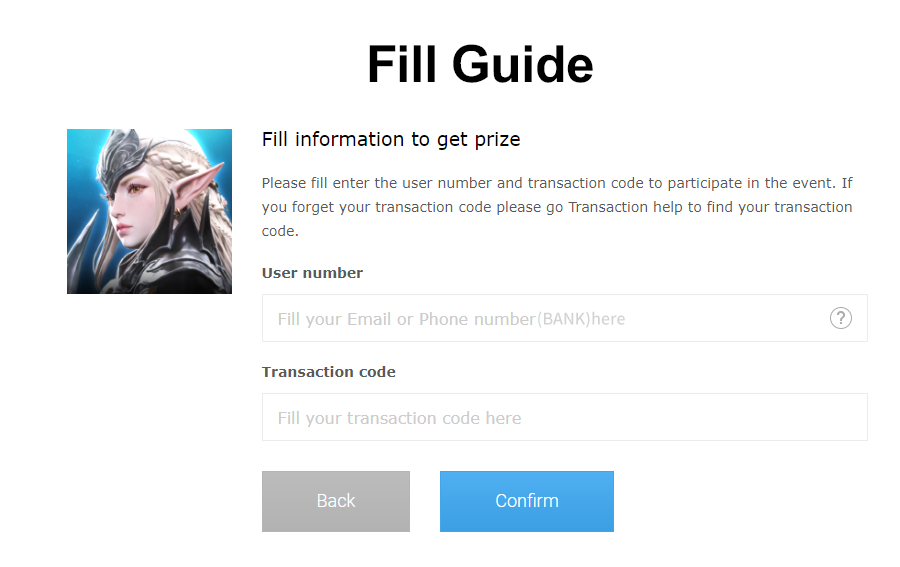 Terms and conditions
This event is calculated according to the single top up domination, and there is no restrictions for participation times of individual game account.
The Redemption period of the event prizes code is from the event starting date to March 31, 2022 at 23:59. You can only redeem event prizes code for each account with MyCard 730 and MyCard 3290 once each.
To qualify for the event, you must use the purchase path, payment method and specified domination as determined from the event content. Attention! The unqualified top up will not be able to participate this event.
When the event cannot be held for some reason, Hundred Soul may decide to cancel, stop, modify or suspend the event and reward content.